Gao et al. found that swine farming elevated antibiotics, ARGs and conditional pathogens in the surrounding groundwater
Fang-Zhou Gao, a Ph.D. student in Prof. Guang-Guo Ying's group in SCNU Environmental Research Institute (SERI), recently published a research article in Environment International titled "Swine farming elevated the proliferation of Acinetobacter with the prevalence of antibiotic resistance genes in the groundwater".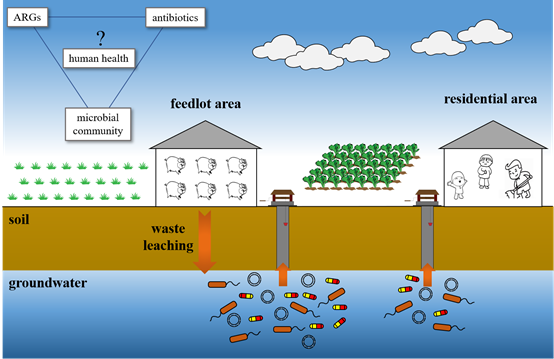 The overuse and misuse of antibiotics occur in the swine farming model of China. The antibiotics can't be totally metabolized by animals and part of them are extracted with urine and feces as parent compounds and metabolites. In addition, animal feces contain large amounts of antibiotic resistance genes (ARGs) and antibiotic resistance bacteria (ARB). The receiving environment will face ecological risks if urine and feces are discharged directly to the environment. In the rural China, well water (groundwater) is the important water resource for drinking and daily use. If the groundwater is contaminated by swine farms, residents in rural area will pose potential health risks.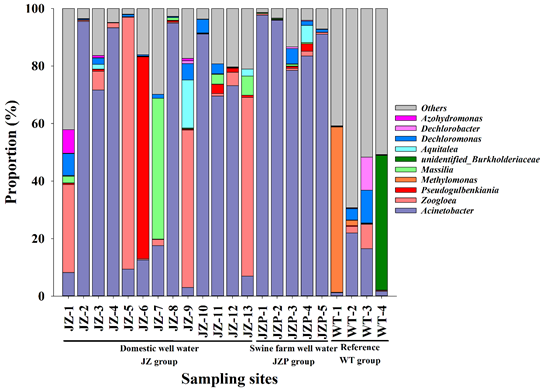 An important swine cultivation area in southern China was selected as the studying area. Swine farming is the major cultivation model in that area. The research team investigated the groundwater of that area in December 2018. The concentrations of antibiotics in the groundwater were detected by UHLC-MS/MS, the abundances of ARGs measured by RT-qPCR, and the microbial community detected by high throughput 16S replicon sequencing. The results I showed that swine farms elevated the concentration levels of both antibiotics and ARGs in the groundwater. In addition, the microbial diversity in the groundwater was significantly decreased. A conditional pathogen genus Acinetobacter (up to 97%) was the predominant microbes in the swine farm groundwater. This is completely different to the groundwater in another village without swine farming. High levels of antibiotics and Acinetobacter were also detected in some wells from the residential area. After estimation, the daily intake of antibiotics through drinking the groundwater would not pose health risks to the residents. However, the daily intake of Acinetobacter and ARGs would enhance the potential health risks to residents. The findings will facilitate further studies about the assessment of antibiotic resistance of pathogens in the groundwater contaminated by swine farming.
Publication:
Gao FZ, Zou HY, Wu DL, Chen S, He LY, Zhang M, Bai H, Ying GG (2020) Swine farming elevated the proliferation of Acinetobacter with the prevalence of antibiotic resistance genes in the groundwater. Environment International 136, 105484. https://doi.org/10.1016/j.envint.2020.105484